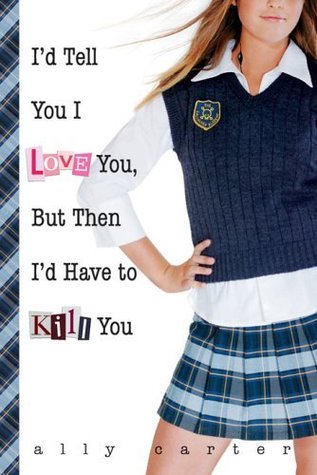 Genre: Contemporary, Romance
Type: Series
Date Published: May 1, 2008- September 17, 2013
Publisher: Disney-Hyperion
Summary: Cammie is a spy in training at the Gallagher Academy, which seems like the typical all-girls private school to outsiders. She has been training her entire life to be what she wants to be, but she begins to experience things a normal teenager would feel such as falling in love.
Click Here->
Goodreads
Review: I really enjoy reading this series. I have been following it for a long time now and I just fall in love with everything about. All of the books are very fast-paced and very entertaining for any one of all ages. Ally Carter is a wonderful writer and I just love the way she describe everything that is going on and it is just so easy to read.
All the characters are just wonderful and well-developed. Cammie and her group of friends are the definition of best friends. They have each other's back and Cammie is such a wonderful character and I just love her. She is smart being a spy and all, but she also seems kind of different compared to other teenagers since she doesn't really have any experience with it so she is relatable to most girls who are just beginning to fall in love and don't know what to do. I also love Liz because not only is she ismart, as in nerd smart, she is also not really good at field work which I could most definitely relate to.
In each book, there is a main conflict that is going on, but there are also some clues to a bigger issue which will occur in the later books. I also love the romance in the series, because unlike most love interests, Cammie doesn't really get hung over by a guy. One thing I disliked about the series are the long titles.
Overall, I really enjoyed the series a lot and I would reccomend it to anyone who wants to read a good series that isn't heavy, but still entertaining.
1.I'd Tell You I Love You, But Then I'd Have To Kill You
2.Cross My Heart and Hope To Spy
3.Don't Just a Girl By Her Cover
4.Only The Good Spy Young
5.Out of Sight, Out of Time
My Rating: 4/5