Feb 7: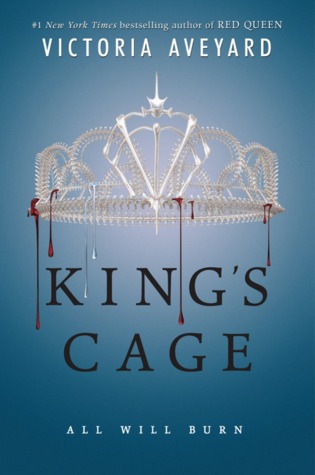 King's Cage (Red Queen #3) by Victoria Aveyard
Genre:
Fantasy, Young Adult
Goodreads Synopsis:
In this breathless third installment to Victoria Aveyard's bestselling Red Queen series, allegiances are tested on every side. And when the Lightning Girl's spark is gone, who will light the way for the rebellion?

Mare Barrow is a prisoner, powerless without her lightning, tormented by her lethal mistakes. She lives at the mercy of a boy she once loved, a boy made of lies and betrayal. Now a king, Maven Calore continues weaving his dead mother's web in an attempt to maintain control over his country—and his prisoner.

As Mare bears the weight of Silent Stone in the palace, her once-ragtag band of newbloods and Reds continue organizing, training, and expanding. They prepare for war, no longer able to linger in the shadows. And Cal, the exiled prince with his own claim on Mare's heart, will stop at nothing to bring her back.

When blood turns on blood, and ability on ability, there may be no one left to put out the fire—leaving Norta as Mare knows it to burn all the way down.
To be honest, my hype for this series is slowly dying down. I thoroughly enjoyed Red Queen, however, Glass Sword did not reach my expectations. The plot was amazing and the writing style was great, but it was not as exciting as the first book. Nonetheless, I am still interested in seeing how the story will go in the next installment.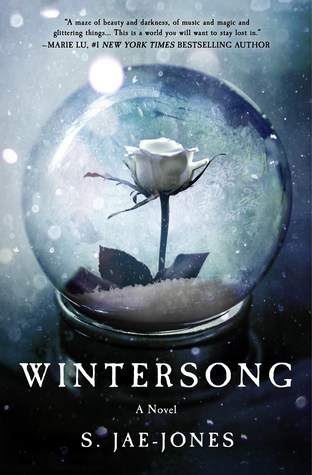 Wintersong by S. Jae-Jones
Genre:
Fantasy, Young Adult
Click Here
➳
Goodreads
Goodreads Synopsis:
Beware the goblin men and the wares they sell.
All her life, nineteen-year-old Liesl has heard tales of the beautiful, mysterious Goblin King. He is the Lord of Mischief, the Ruler Underground, and the muse around which her music is composed. Yet, as Liesl helps shoulder the burden of running her family's inn, her dreams of composition and childish fancies about the Goblin King must be set aside in favor of more practical concerns.
But when her sister Käthe is taken by the goblins, Liesl journeys to their realm to rescue her sister and return her to the world above. The Goblin King agrees to let Käthe go—for a price. The life of a maiden must be given to the land, in accordance with the old laws. A life for a life, he says. Without sacrifice, nothing good can grow. Without death, there can be no rebirth. In exchange for her sister's freedom, Liesl offers her hand in marriage to the Goblin King. He accepts.
Down in the Underground, Liesl discovers that the Goblin King still inspires her—musically, physically, emotionally. Yet even as her talent blossoms, Liesl's life is slowly fading away, the price she paid for becoming the Goblin King's bride. As the two of them grow closer, they must learn just what it is they are each willing to sacrifice: her life, her music, or the end of the world.
Not only does it have a beautiful cover, Wintersong also has an interesting premise which peaked my interest from the start. This is p
robably my most anticipated book of the month and it has already received a lot of hype in the book community which has me itching to grab a copy of this book.
Feb 17:
#famous by Jilly Gagnon
Genre:
Contemporary, Young Adult
Goodreads Synopsis:
In this modern-day love story, Girl likes Boy, Girl takes photo of Boy and posts it online, Boy becomes accidentally insta-famous. And what starts out as an innocent joke spirals into a whirlwind adventure that could change both their lives—and their hearts—forever. But are fame and love worth the price?
Told in alternating points of view, #famous captures the out-of-control thrill ride of falling for someone in front of everyone.
#famous sounds like a cute contemporary book which I am all for. Hopefully, it is not too cheesy!
Feb 21: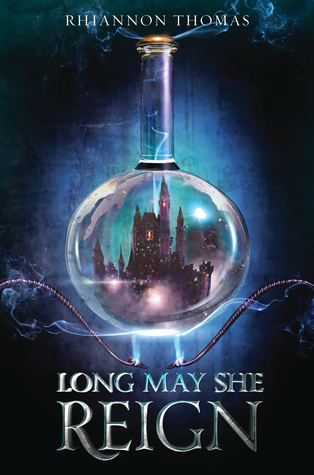 Long May She Reign by Rhiannon Thomas
Genre:
Fantasy, Young Adult
Click Here
➳
Goodreads
Goodreads Synopsis:
The Girl of Fire and Thorns meets The Queen of the Tearling in this thrilling fantasy standalone about one girl's unexpected rise to power.
Freya was never meant be queen. Twenty third in line to the throne, she never dreamed of a life in the palace, and would much rather research in her laboratory than participate in the intrigues of court. However, when an extravagant banquet turns deadly and the king and those closest to him are poisoned, Freya suddenly finds herself on the throne.
Freya may have escaped the massacre, but she is far from safe. The nobles don't respect her, her councillors want to control her, and with the mystery of who killed the king still unsolved, Freya knows that a single mistake could cost her the kingdom – and her life.
Freya is determined to survive, and that means uncovering the murderers herself. Until then, she can't trust anyone. Not her advisors. Not the king's dashing and enigmatic illegitimate son. Not even her own father, who always wanted the best for her, but also wanted more power for himself.
As Freya's enemies close in and her loyalties are tested, she must decide if she is ready to rule and, if so, how far she is willing to go to keep the crown.
So far, I'm not sure if I will even pick this book up. It sounds like something up my alley, but on the other side, the plot seems very generic and I am getting a little tired of reading the same thing over again.