Self-publishing was always an option for aspiring writers. However, it was a long and difficult road that required patience and a discerning eye to find the right press. Thanks to the rise of e-books, self-publishing has become easier and far more profitable. Some authors have even left traditional publishing behind to focus on eBooks.
Rita Stradling, author of Henchgirl
, has found success in this manner. In fact, Kindle e-book exclusives make up around
25 percent of the Kindle store
or around 1 million books.
For the bibliophile, having an additional 1 million books to choose from might seem like a dream come true. Even better, most digital books are far cheaper than their physical counterparts. The biggest drawback is regional restrictions when they apply. Luckily, if you choose a Virtual Private Network service like
Buffered VPN
, you can safely get around these constraints and protect your information at the same time.
Of course, with millions of books available, you'll likely run into some lemons. If you want the best of what digital authors offer, check out these five amazing books.
The Queen's Poisoner (The Kingfountain Series Book 1)
Jeff Wheeler
At the tender age of eight, Owen's father hands him over to King Sever Argentine as penance for his betrayal. If the Duke of Kiskaddon ever rises up again, the King intends to kill the duke's son. Despite his age, Owen learns to survive the court of Kingfountain by seeking allies and sniffing out the King's spies. Yet when rumor of his father's betrayal threatens his survival, Owen must find a way to win over the vengeful kind.
While there's plenty of intrigue and magic in The Queen's Poisoner, what really drives the plot are the characters. Each has a depth to them that makes you take pause and wonder how you should feel about them. The most well-developed are Owen and the king, but the secondary characters have a good amount of development and their own traits so you can easily remember who they are and why they might be important to the story. It's a quick read and part of a larger series so if you like this, then you'll be able to enjoy the world of Kingfountain even more.
The Paper Magician (Book 1)
Charlie Holmberg
Despite graduating at the top of her class from the Tagis Praff School for the Magically Inclined, Ceony ends up with an apprenticeship for paper magic, not the beloved metal she wanted. Yet as she learns under the guidance of her teacher Emery Thane, she learns the beauty and intricacies behind paper. She can animate paper creatures, read fortunes and even bring stories to life. When an evil magician rips Thane's heart out, it's up to Ceony to embark on an adventure to retrieve it.
The Paper Magician offers a different look at the world of magic and wizards. While a bit short on plot and explanation on how magic works, it's perfect for someone coming off the latest Harry Potter series. It's engaging and has just the right amount of whimsy to offset the darker aspects of the story.
Nice Dragons Finish Last (Heartstrikers Book 1)
Rachel Aaron
Picked on throughout his life due to being the smallest dragon, Julius kept his head down and tried to stay out of the spotlight. Sadly, that didn't sit well with his mother, who eventually sealed him in human form and banished him to the human world. In order to get his true form back, he needs to prove his worth as a dragon. Unfortunately, he's far too nice, so he'll need a lot of help to make sure he can earn his way back into his house.
What makes the story work is Julius himself. Unlike other fantasy stories where the good guy struggles to remain good because of internal factors, Julius has to struggle with external ones. His family expects him to be cruel, but deep down he's just a good dragon and can't help himself. While previously he refused to make decisions so as to avoid societal expectations, now he has to figure out how to reconcile his good nature with that of a dragon. It's interesting to see how he manages to stay strong and prove his worth while not sacrificing his beliefs. Besides Julius, the secondary characters are also quite interesting and add a bit of levity to the more serious passages.
Davenport House
Marie Silk
Set at the turn of the 20th century, Davenport House follows the life of Mary, a 22-year-old woman who dreams of a bright future for herself. When her father suddenly dies, Mary's grief leads to suspicion of those around her. As she digs deeper into their family history, she uncovers secrets that point to the truth behind her father's death.
The book combines suspense, historical accuracy and a hint of romance for a very enjoyable and page-turning read. Mary is a likable character who, despite her struggles, manages to remain strong and resourceful through it all. The mystery surrounding the murder takes several twists and turns. While it might be a bit predictable, there are plenty of twists and turns to keep you guessing.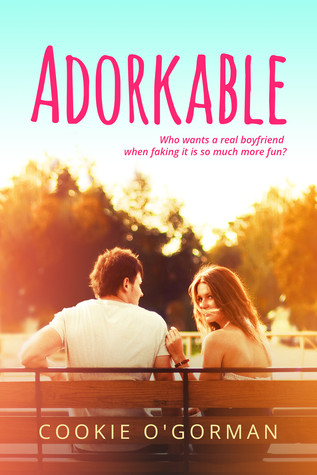 Adorkable
Cookie O'Gorman
After dozens of failed blind dates courtesy of her best friend, Sally decides she's done with dating. In order to stop her friend from setting up more dates, Sally figures only a fake boyfriend will put an end to it. So she asks her best friend Becks to help her out, and he obliges happily. The only problem is, Sally is actually in love with Becks and he has no idea! Dating him is everything she imagined and more and now that they're together, she doesn't want it to end.
Like the title suggests, this novel is truly Adorkable. Sally's struggle to maintain the façade of a fake relationship all while falling even more in love with Becks is understandable, adorable and relatable. It's sweet and at times bittersweet. Becks and Sally are a perfect match, especially because they are such opposites in terms of interests and personality. Yet somehow O'Gorman manages to make their friendship and budding relationship believable. There're no deep themes here. It's fluffy and sweet and will put a smile on your face.
Did we miss one of your favorite e-books? Let us know in the comments below.
About the Author:
Cassie is a freelance technology and entertainment writer. As a hopeless book addict, she loves the fact that technology like e-readers have opened up whole new authors and books to her that she might never have read otherwise.