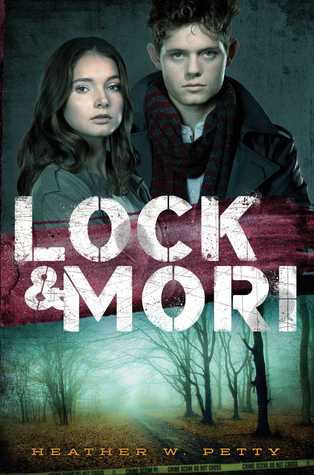 Type:
Trilogy
Genre: Mystery, Contemporary
Publication Date: September 15, 2015
Publisher: Simon & Schuster
Where To Get It: Amazon |
Barnes and Noble
|
Book Depository
Click Here ➳ Goodreads
Summary:
In modern-day London, two brilliant high school students—one Sherlock Holmes and a Miss James "Mori" Moriarty—meet. A murder will bring them together. The truth very well might drive them apart.
Before they were mortal enemies, they were much more…
FACT: Someone has been murdered in London's Regent's Park. The police have no leads.
FACT: Miss James "Mori" Moriarty and Sherlock "Lock" Holmes should be hitting the books on a school night. Instead, they are out crashing a crime scene.
FACT: Lock has challenged Mori to solve the case before he does. Challenge accepted.
FACT: Despite agreeing to Lock's one rule—they must share every clue with each other—Mori is keeping secrets.
OBSERVATION: Sometimes you can't trust the people closest to you with matters of the heart. And after this case, Mori may never trust Lock again.
Review
Ever since I started watching Sherlock earlier this year, I find myself wanting to read more about the famous detective. Lock & Mori is a modern-day reimagining of a teenage Sherlock Holmes and James Moriarty, who, by the way, is a girl in this book and I can't say I didn't enjoy it.
Before this book started, Lock and Mori have never met each other. Lock is, or course, a brainiac who focuses a lot of his time in his lab who recruits Mori to help solve a murder at the park. Mori is an interesting character. She lost her mom and now have to take care of her younger brothers and deal with her alcoholic dad. I find Lock to be a hilarious character, just from the way he acts and how awkward he is.
I also love seeing other characters in the book as well like Mycroft and Watson, but there aren't a lot scenes with Watson in it though which I was disappointed about. As the story progresses there are a lot of twists and turns that kept me hooked! The ending left me with this strange feeling that I can't describe. I can't wait to find out what is will happen next. So if you are a huge Sherlock fan, this is a retelling that you would want to check out.
My Rating:
❀❀❀❀
❀


ABOUT HEATHER W. PETTY:
Heather Petty has been obsessed with mysteries since she was twelve, which is when she decided that stories about murders in London drawing rooms and English seaside villages were far superior to all other stories. She is the author of the Lock & Mori series. She lives in Reno, Nevada, with her husband, daughter, and four hopelessly devious cats. You can visit her online at
HeatherWPetty.com
.
LINKS:
Website
|
Twitter
|
Facebook
|
Tumblr


Tour Schedule:
9/5: In Wonderland - Review
9/6:
Don't Fold the Page - Guest Post
9/7:
Da Readaholic Book Blog - Review
9/8:
readwritelove28 - Q&A
9/9:
Here's to Happy Endings - Review
Giveaway:
3 Finished Copies of LOCK & MORI (US Only)