June 7:
The Long Game (The Fixer, #2) by Jennifer Lynn Barnes
Genre:
Contemporary, Young Adult
Click Here
➳
Goodreads
Goodreads Synopsis:
Tess Kendrick, teen fixer extraordinaire, returns in a pulse-pounding thriller about a deadly conspiracy at the heart of Washington.

For Tess Kendrick, a junior at the elite Hardwicke School in Washington D.C., fixing runs in the family. But Tess has another legacy, too, one that involves power and the making of political dynasties. When Tess is asked to run a classmate's campaign for student council, she agrees. But when the candidates are children of politicians, even a high school election can involve life-shattering secrets.

Meanwhile, Tess's guardian has also taken on an impossible case, as a terrorist attack calls into doubt who can--and cannot--be trusted on Capitol Hill. Tess knows better than most that power is currency in D.C., but she's about to discover first-hand that power always comes with a price.

Perfect for fans of Harlan Coben and Ally Carter, the second book in this thrilling series will leave readers breathless.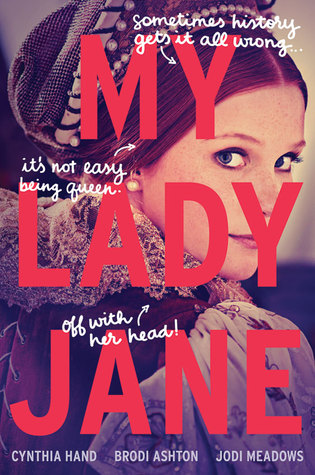 My Lady Jane by Cynthia Hand
Goodreads Synopsis:
For fans of The Princess Bride comes the comical, fantastical, romantical, (not) entirely true story of Lady Jane Grey.

Lady Jane Grey, sixteen, is about to be married to a total stranger—and caught up in an insidious plot to rob her cousin, King Edward, of his throne. But that's the least of Jane's problems. She's about to become Queen of England. Like that could go wrong.
June 14:
Girl vs. Boy Band: The Right Track by Harmony Jones
Goodreads Synopsis:
Talented but painfully shy eighth-grader Lark secretly writes feisty, heartfelt songs about her life-about school, crushes on boys, not getting along with her mom, and missing her dad who lives in Nashville. But that secret becomes harder to keep when Lark's mother, a music record executive at her own label, announces that British boy band Abbey Road will be coming to live with them while they make their first album!

Sharing her L.A. house with three noisy, mischievous rising stars isn't as glamorous as expected, especially when things aren't going smoothly with the band members. When one of them plagiarizes one of Lark's songs and passes it off as his own, will Lark gain the courage to step into the spotlight herself?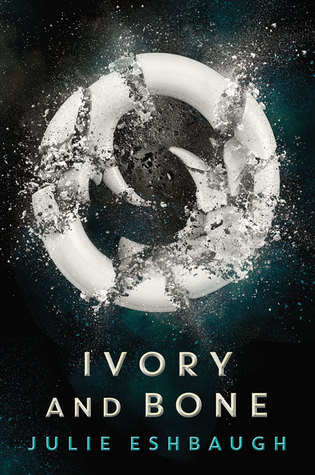 Ivory and Bone by Julie Eshbaugh
Goodreads Synopsis:
A prehistoric fantasy—with allusions to Pride and Prejudice.

Hunting, gathering, and keeping his family safe—that's the life seventeen-year-old Kol knows. Then bold, enigmatic Mya arrives from the south with her family, and Kol is captivated. He wants her to like and trust him, but any hopes of impressing her are ruined when he makes a careless—and nearly grave—mistake. However, there's something more to Mya's cool disdain…a history wrought with loss that comes to light when another clan arrives. With them is Lo, an enemy from Mya's past who Mya swears has ulterior motives.

As Kol gets to know Lo, tensions between Mya and Lo escalate until violence erupts. Faced with shattering losses, Kol is forced to question every person he's trusted. One thing is for sure: this was a war that Mya or Lo—Kol doesn't know which—had been planning all along.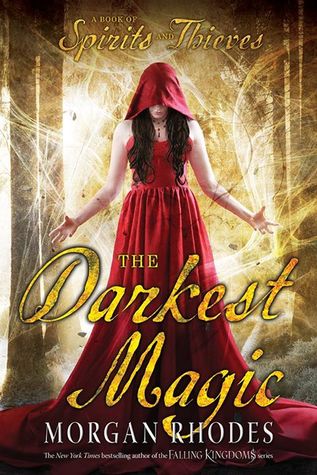 The Darkest Magic (Spirits and Thieves, #2) by Morgan Rhodes
Goodreads Synopsis:
In the second installment of New York Times bestselling author Morgan Rhodes's highly acclaimed Falling Kingdoms spin-off series, danger looms and the mystery deepens as two warring evils vie for possession of one elusive, powerful book.
Modern-day Toronto: Sisters Crystal and Becca Hatcher are reunited after reclaiming the Bronze Codex and narrowly escaping death. They have no one to trust but each other, and the only thing keeping them safe is the book that sent Becca's spirit to Ancient Mytica--the same book that their enemies would kill them for.

Ancient Mytica: Maddox grapples to keep his newly discovered powers under control, while the ruthless goddess Valoria hunts him down.

Modern-day Toronto: Farrell embraces his dark side as he unwittingly falls further under the spell of Markus, the mastermind leader of the nefarious Hawkspear Society, who will stop at nothing to find Crys and Becca--and the remarkable book in their possession.

New York Times bestselling author Morgan Rhodes takes readers into exhilarating new high-fantasy territory with volume two of the Book of Spirits and Thieves series, an epic contemporary saga perfect for fans of Sarah J. Maas and Diana Gabaldon's Outlander.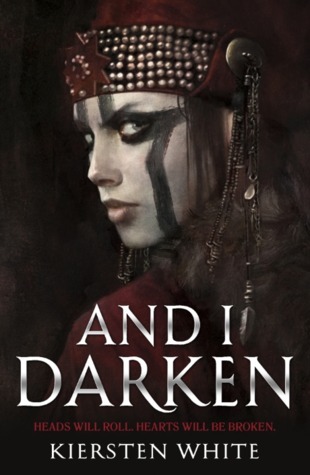 And I Darken (Conqueror's Saga, #1) by Kiersten White
Goodreads Synopsis:
No one expects a princess to be brutal. And Lada Dragwyla likes it that way.

Ever since she and her brother were abandoned by their father to be raised in the Ottoman sultan's courts, Lada has known that ruthlessness is the key to survival. For the lineage that makes her and her brother special also makes them targets.

Lada hones her skills as a warrior as she nurtures plans to wreak revenge on the empire that holds her captive. Then she and Radu meet the sultan's son, Mehmed, and everything changes. Now Mehmed unwittingly stands between Lada and Radu as they transform from siblings to rivals, and the ties of love and loyalty that bind them together are stretched to breaking point.

The first of an epic new trilogy starring the ultimate anti-princess who does not have a gentle heart. Lada knows how to wield a sword, and she'll stop at nothing to keep herself and her brother alive.