I am so excited to participate
in
the Harper Summer 2016 Tour. There are so many books coming out this summer and I hope you guys are able to check them out! One of the books that I am going to share with you is a contemporary and I hope I can pick up the first book when I get the chance. Not only does it sound amazing, this book also comes out on my birthday! Anyway here is the book that I am sharing with you guys.
Incriminated by M.G. Reyes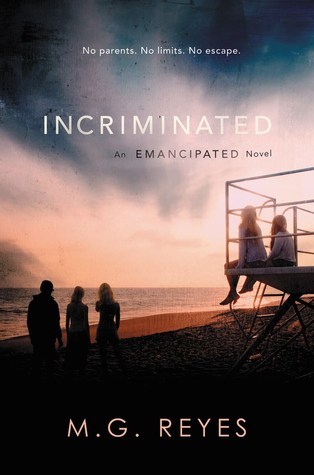 Publication Date: May 24, 2016
Synopsis:
Scandal, romance, treachery, and murder—all under one roof. And no one to clean up their messes. Incriminated is the thrilling second book in the Emancipated trilogy, where limits are pushed, friendships are tested, and the truth has a nasty way of showing up uninvited.
There's trouble in paradise. Six teens legally liberated from parental control—the bad boy, the good girl, the diva, the hustler, the rocker, and the nerd—all share a house in Venice Beach, and they all have one thing in common: murder.
After a streak of hookups, heartbreaks, and bad decisions, the housemates' once perfect life is falling apart. One is caught in a forbidden romance with a Hollywood heartthrob, while another puts her dreams on the line for one little kiss. One harbors a dark truth that could save a life, while another's risky business puts all their lives in danger. And before they know it, the friends are fighting like family.
But when an uninvited houseguest and a deadly accident entangle them in a conspiracy none of them saw coming, pulling together is the only way out. Alone, none of them can cover up the lies. Together, none of them can be trusted.
Packed with conspiracies, intrigue, and scandalous romance, this gripping sequel told from multiple perspectives will have readers suspecting them all.
#1 – A Harper Teen Summer 2016 Catalog prizepack of 45 books*.
*Titles not included: The Crown by Kiera Cass, Escape from Asylum by Madeline Roux, Sing by Vivi Greene, The Countdown by Kimberly Derting, & United As One by Pittacus Lore
In addition to the one massive prize winner, we will also have 4 winners who will be able to select 3 titles they want from the Summer 2016 Catalog.
#2 – 5 Finished Copies from the Harper Teen Winter 2016 Catalog
5 books are: Front Lines by Michael Grant, Revenge & the Wild by Michelle Modesto, The Lifeboat Clique by Kathy Parks, Symptoms of Being Human by Jeff Garvin, & The Girl from Everywhere by Heidi Heilig
How to enter:
Collect the daily word from each blog stop during the Harper Summer 2016 Tour (a total of 50). Once you've collected them all, email the complete saying to: HarperTeenTour@gmail.com
Prize Rules:
Winner must have a valid US mailing address to receive the prize

Winner must be over 13

Only one (1) entry per person for Prize #2 – duplicates will be deleted.

Only a completed phrase will be accepted as an entry – do not email each word/phrase daily. Wait until you have the complete saying and then email in.

All email submissions must be received by 11:59 PM EST 3/31/2016.

Winners will be selected 4/1/2016 and will have 48 hours to claim their prize before another is selected.

Participating blogs and bloggers are not responsible for unsent, damaged, and/or stolen prizes offered by the publisher.
#3 – Leap Year Giveaway - 4 of the most anticipated ARCs from Summer 2016
Books are: My Lady Jane, Ivory & Bone, The Crown's Game and This Savage Song
This giveaway will only run on February 29, 2016. The rafflecopter form will work for 24 hours and a winner will be chosen on March 1, 2016.