So it is January and there are quite a few books coming out this month and I can't wait to get them on my hands.
January 5: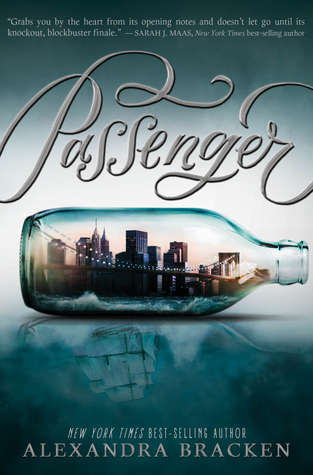 Passenger by Alexandra Braken
Genre: Fantasy
The Imposter Queen by Sarah Fine
Genre: Fantasy
Goodreads Synopsis:
Sixteen-year-old Elli was a small child when the Elders of Kupari chose her to succeed the Valtia, the queen who wields infinitely powerful ice and fire magic. Since then, Elli has lived in the temple, surrounded by luxury and tutored by magical priests, as she prepares for the day when the Valtia perishes and the magic finds a new home in her. Elli is destined to be the most powerful Valtia to ever rule.

But when the queen dies defending the kingdom from invading warriors, the magic doesn't enter Elli. It's nowhere to be found.

Disgraced, Elli flees to the outlands, the home of banished criminals—some who would love to see the temple burn with all its priests inside. As she finds her footing in this new world, Elli uncovers devastating new information about the Kupari magic, those who wield it, and the prophecy that foretold her destiny. Torn between the love she has for her people and her growing loyalty to the banished, Elli struggles to understand the true role she was meant to play. But as war looms, she must align with the right side—before the kingdom and its magic are completely destroyed.


January 12:
Henchgirl by Rita Stradling
Genre: Fantasy
Click Here
➳
Goodreads
Goodreads Synopsis:
The children of dragons and humans, the dracons, control eighty percent of the world's governments. Humans worldwide are either subservient or prey. On the small vacation island of Mabi, humans call for war.

Sixteen year old Dakota Kekoa lives a double life. By day, she pretends to be a human to infiltrate Mabi Academy, a 'human's only' high-school. At night, she works as a henchman for her draconic mafia family, utilizing her ability to steal and manipulate emotions.

When Dakota's human friend is kidnapped, she takes on the mission to find her. This is not just any mission though; she is diving head first into the escalating conflict between humans and dracons. As more girls disappear and some are discovered dead, Dakota realizes her first honorable mission may also be her last.
Bookishly Ever After by Isabel Bandeira
Genre: Contemporary
Click Here
➳
Goodreads
Goodreads Synopsis: In a perfect world, sixteen-year-old Phoebe Martins' life would be a book. Preferably a YA novel with magic and a hot paranormal love interest. Unfortunately, her life probably wouldn't even qualify for a quiet contemporary. But when Phoebe finds out that Dev, the hottest guy in the clarinet section, might actually have a crush on her, she turns to her favorite books for advice. Phoebe overhauls her personality to become as awesome as her favorite heroines and win Dev's heart. But if her plan fails, can she go back to her happy world of fictional boys after falling for the real thing?
January 26:
The Prophecy of Shadows by Michelle Madow
Genre: Fantasy
Click Here
➳
Goodreads

Goodreads Synopsis: When Nicole Cassidy moves from sunny Georgia to gloomy New England, the last thing she expects is to learn that her homeroom is a cover for a secret coven of witches. Even more surprisingly … she's apparently a witch herself. Despite doubts about her newfound abilities, Nicole is welcomed into this ancient circle of witches and is bedazzled by their powers—and, to her dismay, by Blake—the school's notorious bad-boy.

Girls who get close to Blake wind up hurt. His girlfriend Danielle will do anything to keep them away, even if she must resort to using dark magic. But the chemistry between Blake and Nicole is undeniable, and despite wanting to protect Nicole from Danielle's wrath, he finds it impossible to keep his distance.

When the Olympian Comet shoots through the sky for the first time in three thousand years, Nicole, Blake, Danielle, and two others in their homeroom are gifted with mysterious powers. But the comet has another effect—it opens the portal to the prison world that has contained the Titans for centuries. After an ancient monster escapes and attacks Nicole and Blake, it's up to them and the others to follow the clues from a cryptic prophecy so that they can save their town … and possibly the world.