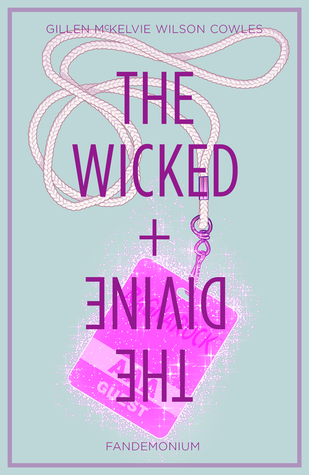 Illustrator: Jaimie McKelvie
Type: Graphic Novel
Genre: Fantasy, Adult
Date Published: July 1, 2015
Publisher: Image Comics
Source: Library
Click Here->
Goodreads
Summary: The second volume of the award-winning urban fantasy series where gods are the ultimate pop stars and pop stars are the ultimate gods. Following the tragic and unjust death of Lucifer, it takes a revelation from Inanna to draw Laura back into the worlds of Gods and Superstardom to try and discover the truth behind a conspiracy to subvert divinity. Includes issues 6-11 of the series, plus supplementary material.
Review: This graphic novel really hard to get into. It was confusing at the beginning and about halfway through, everything just clicked together and I enjoy it a lot. Honestly, I am still confused as to what is going here, but I sort of get what it is going (I hope that makes sense...).
This volume was longer than the first one and I enjoyed this one better. It was really entertaining and the story just sucks you in and you can't stop reading. However, the ending. It left off in a HUGE cliffhanger and I want to find out what happens next like RIGHT NOW!
The artwork is amazing, as always and there was a lot of interesting characters with interesting names that I still get confused with them. However, this is definitely one of the best graphic novel that I have read so far and I would definitely recommend it to comic lovers out there.
My Rating: 4.5/5