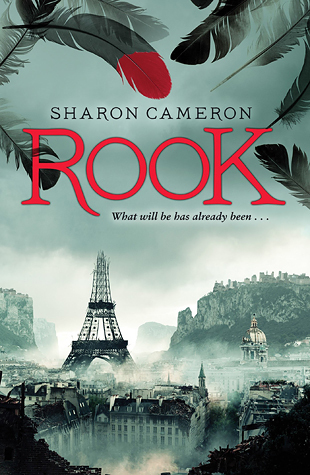 Type: Stand- Alone
Genre: Science Fiction, Dystopian, Young Adult
Date Published: April 28, 2015
Publisher: Scholastic
Source: Hardcover // Library
Click Here->
Goodreads
Summary: History has a way of repeating itself. In the Sunken City that was once Paris, all who oppose the new revolution are being put to the blade. Except for those who disappear from their prison cells, a red-tipped rook feather left in their place. Is the mysterious Red Rook a savior of the innocent or a criminal?

Meanwhile, across the sea in the Commonwealth, Sophia Bellamy's arranged marriage to the wealthy René Hasard is the last chance to save her family from ruin. But when the search for the Red Rook comes straight to her doorstep, Sophia discovers that her fiancé is not all he seems. Which is only fair, because neither is she.

As the Red Rook grows bolder and the stakes grow higher, Sophia and René find themselves locked in a tantalizing game of cat and mouse.
Review: I was hesitant to pick this book up because I wasn't really a fan Sharon Cameron's other work, but this genuinely surprised me. I really enjoyed it and thought that it was a really interesting concept.
Rook takes place in the near future in France where satellites fell and most modern-day technology were destroyed and we revert to living without them.
I just thought this was a wonderful book. I love the chemistry between Rene and Sophia and thought it was well planned out. The villain is a crazed man which was very different from the other villains.
I really enjoyed reading this. It has the perfect combination of politics, adventure and romance. The story was pretty unique and I just can't help but really enjoy it. However, there were some moments where it was slow and I just wanted it to pick up the pace.
My Rating: 4/5