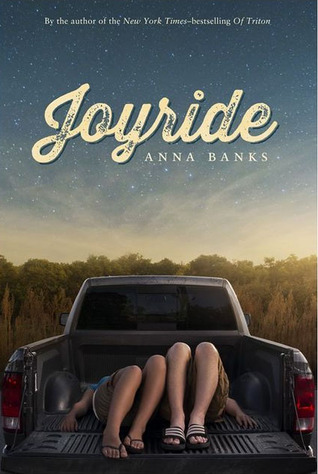 Type: Stand- Alone
Genre: Contemporary, Romance, Young Adult
Date Published: June 2, 2015
Publisher: Feiwel & Friends
Source: Hardcover // Library
Click Here->
Goodreads
Summary: A popular guy and a shy girl with a secret become unlikely accomplices for midnight pranking, and are soon in over their heads—with the law and with each other—in this sparkling standalone from NYT-bestselling author Anna Banks.

It's been years since Carly Vega's parents were deported. She lives with her brother, studies hard, and works at a convenience store to contribute to getting her parents back from Mexico.

Arden Moss used to be the star quarterback at school. He dated popular blondes and had fun with his older sister, Amber. But now Amber's dead, and Arden blames his father, the town sheriff who wouldn't acknowledge Amber's mental illness. Arden refuses to fulfill whatever his conservative father expects.

All Carly wants is to stay under the radar and do what her family expects. All Arden wants is to NOT do what his family expects. When their paths cross, they each realize they've been living according to others. Carly and Arden's journey toward their true hearts—and one another—is funny, romantic, and sometimes harsh.


Review: I have mixed feelings toward this book. I haven't read Anna Banks other books before, so I have nothing to compare it to. It was cliché and predictable and I kind of like it? I don't know.


I thought Anna Banks did a great job of combining a lot of family aspects and dealing with immigration and racism. She did a great job of realistically portraying the troubles faced with being an immigrant which was my favorite part of it all.
I really like Carly as a character. She is determined and feisty which I like in a character; I also liked Cletus and how he would always look out for her. He is caring and I also find him to be funny and brings some lightness into the story.
What I did not like about it was the fact that it was cliché and I grew kind of tired with it pretty quickly. It was predictable and I felt like there were better books for me to read then. The romance was kind of iffy for my taste and I did not like the love interest that well.
My Rating: 2.5/5