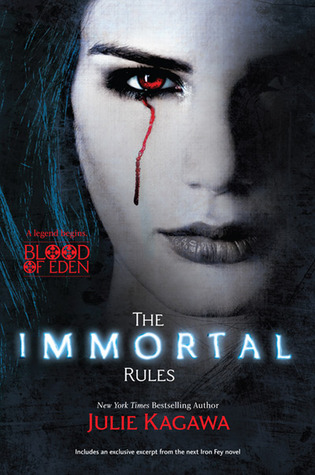 Genre: Paranormal, Post Apocalyptic, Young Adult
Date Published: April 24, 2012
Sequel: The Eternity Cure
Publisher: Harlequin Teen
Source: E-Book
Summary: Allison Sekemoto survives in the Fringe, the outermost circle of a walled-in city. By day, she and her crew scavenge for food. By night, any one of them could be eaten. Some days, all that drives Allie is her hatred of them—the vampires who keep humans as blood cattle. Until the night Allie herself dies and becomes one of the monsters.
Forced to flee her city, Allie must pass for human as she joins a ragged group of pilgrims seeking a legend—a place that might have a cure for the disease that killed off most of civilization and created the rabids, the bloodthirsty creatures who threaten human and vampire alike. And soon Allie will have to decide what and who is worth dying for… again.
Review: So I jumped on this band wagon late, but I don't care. It was amazing! This book was very impressive and it was interesting.
The Immortal Rules follows Allison, a newly turned vampire forced to survive on her own outside the city where she meets a group of humans

who are on their way to Eden, a safe haven without vampires.
Allie was a strong protagonist in this book which makes her likable. However, I did not like Zeke, the love interest, at all. In the book, he is very kind and everyone seems to like him, but not me. He is the complete opposite of Allie. He is a caring human while Allie is a strong tempered vampire which does not makes them compatible.
Julie Kagawa has an interesting way of writing stories with a unique concept into it. The world was interesting in a apocalyptic world and there are two types of monsters in it: rabids and vampires.
My Rating: 3.5/5