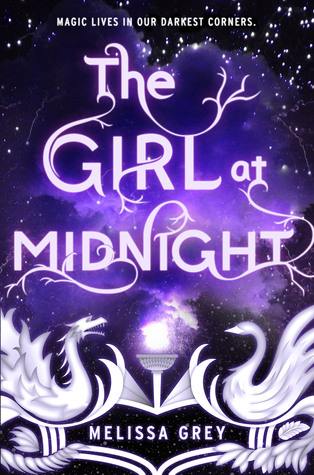 Genre:
Urban Fantasy
Type: Trilogy
Date Published:
April 28, 2015
Sequel: The Shadow Hour (2016)
Publisher: Delacorte Press
Summary:
Beneath the streets of New York City live the Avicen, an ancient race of people with feathers for hair and magic running through their veins. Age-old enchantments keep them hidden from humans. All but one. Echo is a runaway pickpocket who survives by selling stolen treasures on the black market, and the Avicen are the only family she's ever known.
Echo is clever and daring, and at times she can be brash, but above all else she's fiercely loyal. So when a centuries-old war crests on the borders of her home, she decides it's time to act.
Legend has it that there is a way to end the conflict once and for all: find the Firebird, a mythical entity believed to possess power the likes of which the world has never seen. It will be no easy task, though if life as a thief has taught Echo anything, it's how to hunt down what she wants . . . and how to take it.
But some jobs aren't as straightforward as they seem. And this one might just set the world on fire.
Click Here->
Goodreads
Review:
I absolutely enjoyed this book. I find it really interesting and very unique and it just compels me to continue reading it. The Girl at Midnight is about a girl named Echo who was taken in by this race called the Avicens who have feathers on their bodies instead of hair. She is caught in between a war between the Avicens and Drakharians who are another race that can transform into dragons and shoot fire out of their hands. Echo wants to help out by finding the firebird and ending the war.

Echo was definitely a fun character to read about. She is sassy and quirky and at the same time, serious when she wants to be. She is also quick at her feet and very mature for her age since she has to fend for herself at a young age. She is very defensive of her friends and families which makes her such a strong character and she would do anything to help them.
The romance was predictable and I knew it was coming. It was fun to read about it and I love their dynamics, however, it seems kind of awkward to read about, unlike most romances I have read. The book was told in multiple perspectives which I enjoy because you get to view things in their eyes and see their side instead of only one which fit well in this book where a lot of stuff happens.
Overall, I really enjoyed this book and I find it very enjoyable. The premise was unique and something I have not read before which makes it one of the best book I've read this year. I am definitely anticipating the next book and can't wait to see where it ends.
My Rating: 4/5