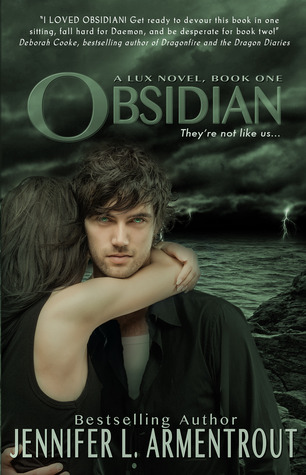 Genre: Paranormal
Type: Series
Date Published: May 8, 2012
Sequel: Onyx (August 14, 2012)
Publisher: Entangled Teen
Summary:
Starting over sucks.
When we moved to West Virginia right before my senior year, I'd pretty much resigned myself to thick accents, dodgy internet access, and a whole lot of boring… until I spotted my hot neighbor, with his looming height and eerie green eyes. Things were looking up.
And then he opened his mouth.
Daemon is infuriating. Arrogant. Stab-worthy. We do not get along. At all. But when a stranger attacks me and Daemon literally freezes time with a wave of his hand, well, something… unexpected happens.
The hot alien living next door marks me.
You heard me. Alien. Turns out Daemon and his sister have a galaxy of enemies wanting to steal their abilities, and Daemon's touch has me lit up like the Vegas Strip. The only way I'm getting out of this alive is by sticking close to Daemon until my alien mojo fades.
If I don't kill him first, that is.
Click Here->
Goodreads
Review: I really enjoyed this book. I haven't read a lot of books about alien, and have no idea why, but this book got me in the mood to read more about. Obsidian follows Katy, a book blogger, who moved to WV and became neighbors with aliens which causes a lot of trouble for her.
She is a very normal teenager with a spunky attitude which makes her a very likable person. Daemon and Dee have a very nice sibling relationship. They are complete opposites of each other; Dee being the happy sunshine and Daemon the gloomy storm. Daemon is so infuriating in the book. He has a lot of mood swing being nice and then turning cold.
Not a lot happened in the beginning, though, it was kind of slow. It mostly follows Katy as she begins to adjust to her new life and getting to know her new neighbor. However, things began to happen later on and it became way more interesting.
Overall, I find this to be an amazing take on aliens. I find it to be a fun read and it did reach my expectation of what I initially thought about it.
My Rating: 4/5