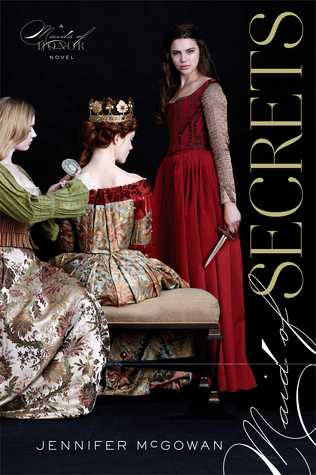 Genre: Historical Fiction
Type: Series
Date Published: May 7, 2013
Sequel: Maid of Deception (August 26, 2014)
Publisher: Simon&Schuster
Summary: Orphan Meg Fellowes makes her living picking pockets—until she steals from the wrong nobleman. Instead of rotting in prison like she expected, she's whisked away to the court of Queen Elizabeth and pressed into royal service, where she joins four other remarkable girls in the Maids of Honor, the Queen's secret society of protectors.
Meg's natural abilities as a spy prove useful in this time of unrest. The Spanish Court is visiting, and with them come devious plots and hidden political motives. As threats to the kingdom begin to mount, Meg can't deny her growing attraction to one of the dashing Spanish courtiers. But it's hard to trust her heart in a place where royal formalities and masked balls hide the truth: Not everyone is who they appear to be. With danger lurking around every corner, can she stay alive—and protect the crown?
Click Here->
Goodreads
Review: I haven't read a lot of historical fiction book, but I really enjoyed this! It was very intriguing and every time I read this, I keep on thinking about Reign (the TV series). The politics, mystery and drama all tied in together to make a very enjoyable book.
Maid of Secrets follows Meg, an orphan taken to the palace to become a spy for the queen, which got me hooked in the first place. Meg is a very interesting character; she is a very dangerous spy but she could be unsure sometimes. The other spies: Beatrice, Sophia, Jane, and Anna are also fun characters to read about. They have very different personalities and have their own differences, but they seem to be same and would stick by each other even though they do seem like they hate each other.
There weren't a lot of times when the character would interact with the Queen, but judging her from Meg's perspective, she is a very confident queen and a little bitchy.
I love the political aspect of the book. It intriguing to read about and I love how everyone in the court acted. This book is both educational and entertaining for me with the historical and fiction aspect of the book.
However, I do get confused as to most of the historical events and who married who, etc. Those are very annoying and I don't get it at all, The Spanairds are hard to remember. Their names would be Da Quadra, De Martine, De Ortiz...
Overall, I really enjoyed this book. I find it Meg to be a very strong character and a independent person despite what everyone says about her. I hope to get the next book soon and read more about Beatrice.
My Rating: 4/5