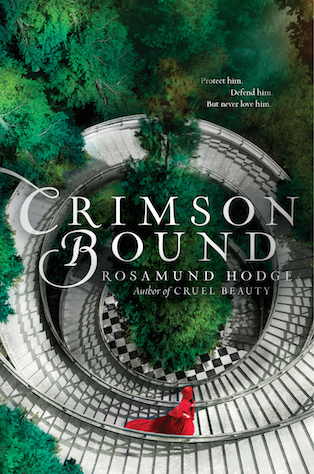 Genre: Fantasy
Type: Stand-Alone
Date Published: May 5, 2015
Publisher: Balzer+Bray
Summary: When Rachelle was fifteen she was good—apprenticed to her aunt and in training to protect her village from dark magic. But she was also reckless— straying from the forest path in search of a way to free her world from the threat of eternal darkness. After an illicit meeting goes dreadfully wrong, Rachelle is forced to make a terrible choice that binds her to the very evil she had hoped to defeat.
Three years later, Rachelle has given her life to serving the realm, fighting deadly creatures in an effort to atone. When the king orders her to guard his son Armand—the man she hates most—Rachelle forces Armand to help her find the legendary sword that might save their world. As the two become unexpected allies, they uncover far-reaching conspiracies, hidden magic, and a love that may be their undoing. In a palace built on unbelievable wealth and dangerous secrets, can Rachelle discover the truth and stop the fall of endless night?
Inspired by the classic fairy tale Little Red Riding Hood, Crimson Bound is an exhilarating tale of darkness, love, and redemption.
(This is a standalone novel, not part of the Cruel Beauty Universe.)
Click Here->
Goodreads
Review: I really enjoy Rosamund Hodge's writing. I loved how she was able to take one of our favorite fairy tales and change into something dark and twisted.
Rachelle was being apprenticed by her aunt to be a goodwife, someone who weave charms to protect the village from the dangers of the Great Forest, however, due to her carelessness, she was marked by the very creature she was supposed to protect the village from and became a bloodbound when she killed someone she love
.
Rachelle escaped from her village and was taken in by the king to kill the very creatures that she has become, but the Great Forest has gotten stronger and soon it will destroy everything in its way.

The world is well-developed and I do enjoy reading about it. There were also these parts between some chapters about the world and how the Devourer was destroyed. I find those parts to be one of my favorite aspects of the book. There are some twists that I did not expect which makes it hard to predict what will happen in the end.
I love the romance in the book. Rachelle, Erec and Armand are all wonderful characters. I find it fun to see how all the characters are connected to each other. Rachel was unlike any female protagonists that I have read. She does not seem like the hero in the story, but in the end, she does live up to the expectations of what heroines are supposed to be.
Overall, I think this is one of the best retelling that I have read. It was quite enjoyable and I just find it to be quite a fun read. The world was well imaginative and there are some comical relief in the book if not many.
My Rating: 4.5/5