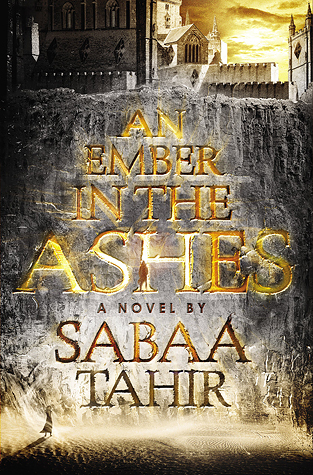 Genre: Fantasy
Type: Duology
Date Published: April 28, 2015
Sequel: Untitled (2016)
Publisher: Razorbill
Summary: Under the Martial Empire, defiance is met with death. Those who do not vow their blood and bodies to the Emperor risk the execution of their loved ones and the destruction of all they hold dear.
It is in this brutal world, inspired by ancient Rome, that Laia lives with her grandparents and older brother. The family ekes out an existence in the Empire's impoverished backstreets. They do not challenge the Empire. They've seen what happens to those who do.

But when Laia's brother is arrested for treason, Laia is forced to make a decision. In exchange for help from rebels who promise to rescue her brother, she will risk her life to spy for them from within the Empire's greatest military academy.

There, Laia meets Elias, the school's finest soldier—and secretly, its most unwilling. Elias wants only to be free of the tyranny he's being trained to enforce. He and Laia will soon realize that their destinies are intertwined—and that their choices will change the fate of the Empire itself.
Click here->
Goodreads
Review: I really, really, really enjoy this book. It was very entertaining and very hard for me to put down.
The plot was really interesting and I love how the author build the world without making it very slow or boring. The story was very adventurous and kind of unexpected for me. There were a lot of times where I thought someone was going to die, but then that didn't happen which left me tense. There were also a lot of twists and turns that I did not see happen and that took be by surprise.
Reading from both perspectives of Laia and Elias was very entertaining. We get to see how they thought of each other and see how much they have developed from the very beginning of the book. There are also a lot of characters that played a major role in the book that kept the story moving along. Most of these side characters are very mysterious and they are also very entertaining, especially the Commandant who I know will play a much bigger role later on.
There were many deaths in the book and the battles are very intriguing. I thought this was going to be a stand-alone book, but it just doesn't seem like it. There were so many questions unanswered and there are definitely space for more books added in. I want to see more of Laia and Elias and how their adventure is going to be.
Overall, this is by far the best book I have read this year. Sabaa Tahir has a way of drawing readers into her writing and I can't wait to see what she has in store for us.
My Rating: 5/5