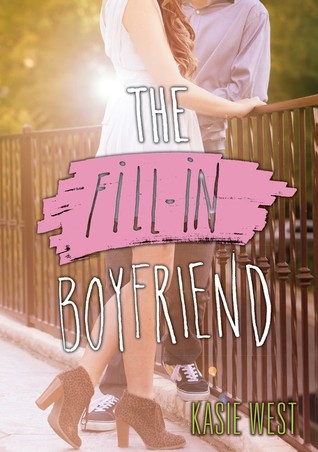 Genre:
Contemporary
Type: Stand-Alone
Date Published: May 5, 2015
Publisher: HarperTeen
Summary: When Gia Montgomery's boyfriend, Bradley, dumps her in the parking lot of her high school prom, she has to think fast. After all, she'd been telling her friends about him for months now. This was supposed to be the night she proved he existed. So when she sees a cute guy waiting to pick up his sister, she enlists his help. The task is simple: be her fill-in boyfriend— two hours, zero commitment, a few white lies. After that, she can win back the real Bradley...
Click Here->
Goodreads
Review: A fun, cute, and quick read that I would read in the summer. Gia was dumped on prom night by her boyfriend, so she found someone to fill in to prove to her friends that her boyfriend existed. But in some twist of event, she began to fall for the substitute and her lies began to unveil. I did not enjoy it as much as I hoped for. The plot was really interesting and it did not go the way I expected it to be which was also a good and bad thing even though I suspected it would end that way.
First of all, the characters really got on my nerves, especially Jules, who was trying to 'steal' Gia's friends. Then there are her other friends, Claire and Lainey, who are so oblivious of the rivalry between the two. Gia also got on my nerves in the beginnng of the book, but over the course of the book, she did change for the better. They do not even act their age. They are supposed to be seniors ready to graduate, but they sound like tenth graders with sabotage and secrets.
Then there is the boy. Gia kept thinking about him and even going as far as to bothering his little sister. To be honest, none of the characters stood out as much, except for Bee, the fill-in's sis. She is spunky and fun and I really hoped her the best with her romance.
Speaking of romance, there Gia and the fill-in are kind of cute together. The boy is open-minded and very outgoing which anyone can fall for. There is a lot of family drama in this book with Gia's brother and her mother which I find really horrible.
Overall, it was a fun read and I would reccomend it to someone who really loves a cute read. Also, I'm sorry for not mentioning, the fill-in's name (spoiler reasons). There were some issues that weren't really resolved in the book and I was hoping for an epilogue or an extra chapter to see how everything went.
My Rating: 3/5