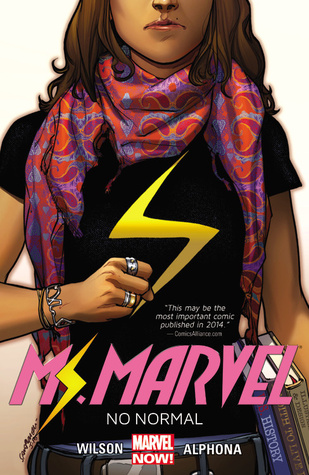 Artist:
Adrian Alphona
Genre: Superheroes
Type: Comic Book
Date Published: October 30, 2014
Sequel: Ms. Marvel Vol.2: Generation Why (April 7, 2015)
Publisher: Marvel
Summary: Kamala Khan is an ordinary girl from Jersey City — until she's suddenly empowered with extraordinary gifts. But who truly is the new Ms. Marvel? Teenager? Muslim? Inhuman? Find out as she takes the Marvel Universe by storm! When Kamala discovers the dangers of her newfound powers, she unlocks a secret behind them, as well. Is Kamala ready to wield these immense new gifts? Or will the weight of the legacy before her be too much to bear? Kamala has no idea, either. But she's comin' for you, New York!
Click Here->
Goodreads
Review: My first Marvels comic book and it made me want to read more! Kamala is a relatable character. She is a fangirl and, like everyone else, wants to fit in. She is what every teenage girl is which makes her a very likable character. The fact that she is a Muslim doesn't affect the story at all, which I was worried about, since it mostly focused on her struggles with fitting in and discovering her newfound powers.
Even though I really enjoy it, it doesn't really appeal to me as much as I thought it would. The mype of this book made me have high expectations for it which affected how much I enjoyed it. Overall, very enjoyable and I would continue on. It has a nice story and the artwor is also really nice.
Rating: 4/5