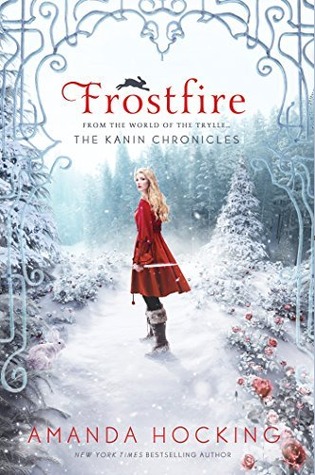 Genre:
Fantasy
Type: Trilogy
Date Published: January 6, 2014
Sequel: Ice Kissed (May 5, 2015)
Publisher: St. Martin's Griffin
Summary:
Bryn Aven is an outcast among the Kanin, the most powerful of the troll tribes.Set apart by her heritage and her past, Bryn is a tracker who's determined to become a respected part of her world. She has just one goal: become a member of the elite King's Guard to protect the royal family. She's not going to let anything stand in her way, not even a forbidden romance with her boss Ridley Dresden.But all her plans for the future are put on hold when Konstantin– a fallen hero she once loved – begins kidnapping changelings. Bryn is sent in to help stop him, but will she lose her heart in the process?
Click here ->
Goodreads
Review:
I really enjoyed this book. I love the world that Amanda Hocking created and I read the Tylle series which I enjoyed so I had high expectations for this. This book definitely reached that expectation and I enjoyed it more so than the Trylle series. I actually like Bryn and I find her headstrong and stubborn at some times but she doesn't annoy me as much as Wendy did.
At first, I thought the book would be focused more on Vittra, so I was kind of surprised when I found out it was from Kanin. I especially love the cameos in this book, but I was disappointed when there weren't many scenes that involved some interaction with Wendy and Loki. During the beginning of the book, I kind of shipped Bryn with Konstantin even though I know that he is the villain, but I do like Ridley though. There were some times in the book that he makes me laugh and he is just a very fun character to read about.
Rating: 4/5