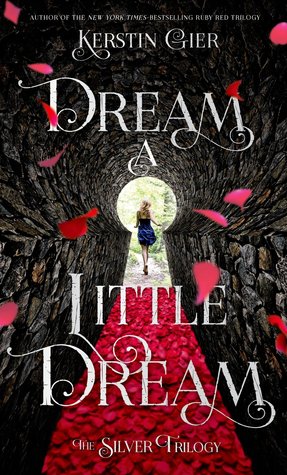 Genre:
Young Adult, German Lit, Paranormal
Type: Trilogy
Date Published: April 14, 2014 (Released in U.S.)
Sequel: ???
Publisher: Henry Holt and Co.
Summary:
Mysterious doors with lizard-head knobs. Talking stone statues. A crazy girl with a hatchet. Yes, Liv's dreams have been pretty weird lately. Especially the one where she's in a graveyard at night, watching four boys conduct dark magic rituals.

The strangest part is that Liv recognizes the boys in her dream. They're classmates from her new school in London, the school where she's starting over because her mom has moved them to a new country (again). But what's really scaring Liv is that the dream boys seem to know things about her in real life, things they couldn't possibly know--unless they actually are in her dreams? Luckily, Liv never could resist a good mystery, and all four of those boys are pretty cute....
Click Here->
Goodreads
Review: I really enjoyed this book, it was past-paced, like most of Kerstin's book and also very entertaining. I read the Ruby Red series by Kerstin Gier but did not enjoy it as much as most people did. This was something that I really enjoyed. Liv and her sister moved around a lot because of their parent's work and the fact that they are divorced. They moved to London to live with her mother, who is in a relationship with some guy with kids, but Liv began to have vivid dreams of four boys from her new school that seem so real.
First of all, I would like to start out by saying that there is no love triangle! Yay! It was really refreshing because in most YA books I've read there are always love triangles which some I enjoyed and some I find undeveloped so I was glad that this was not one of them. Liv is a relatable character and she would laugh at some unnecessary times, which I seem to do a lot.
Then there is Florence, Liv's soon-to-be stepsister and the twin sister of one of the four boys (Grayson). Her characteristic is what I would describe as two-dimensional. She seems really to Liv at times, but then she would be mean and it is hard to know if she is just snobby or if she is just oblivious to how she is acting. She just really bothers me eve though she doesn't really appear much in the book.
The four boys in the book: Grayson, Henry, Jasper, and Arthur are all described as good-looking, but they all have a different kind of characteristics to them. I really like Mia. She is what most older siblings would wish for. She doesn't stick her nose into other people's business and she seems really cool. Liv's mom does not seem like a responsible mother. She mostly dotes on Florence and Grayson more so than she did her own children. She also makes fun of Liv and Mia which I find to be bad parenting.
The plot was really interesting and fun to read about. There some times when it seem kind of scary. Most of the climx did not happen until almost the very end. Overall, a really exciting book to read and I can't wait for the second one.
My Rating: 5/5