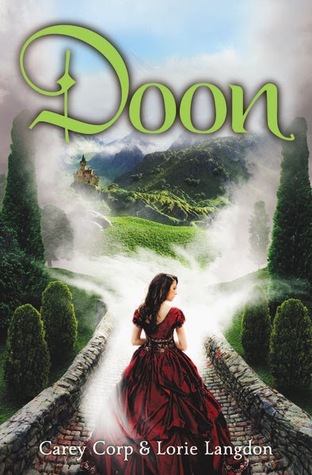 Genre:
Young-Adult, Fantasy
Type: Series
Date Published: August 20, 2013
Sequel: Destined for Doon (September 2, 2014)
Publisher: Blink
Summary:
Veronica doesn't think she's going crazy. But why can't anyone else see the mysterious blond boy who keeps popping up wherever she goes? When her best friend, Mackenna, invites her to spend the summer in Scotland, Veronica jumps at the opportunity to leave her complicated life behind for a few months.
But the Scottish countryside holds other plans.
Not only has the imaginary kilted boy followed her to Alloway, she and Mackenna uncover a strange set of rings and a very unnerving letter from Mackenna's great aunt—and when the girls test the instructions Aunt Gracie left behind, they find themselves transported to a land that defies explanation. Doon seems like a real-life fairy tale, complete with one prince who has eyes for Mackenna and another who looks suspiciously like the boy from Veronica's daydreams. But Doon has a dark underbelly as well. The two girls could have everything they've longed for...or they could end up breaking an enchantment and find themselves trapped in a world that has become a nightmare.
Click Here->
Goodreads
Review: Mackenna and Veronica are spending the summer in Scotland where Veronica is having weird dreams of a boy from another world. As she learns more about Mackenna's aunt, the two best friends are swept into a magical world of magic and danger.
This book was really fast-paced and easy to read that I flew by it rather quickly. Carey Corp and Lorie Langdon are two wonderful writers. They described Doon and Scotland so beautifully that I fell in love with the place and it made me want to read more.

Mackenna and Veronica are also two very relatable characters and liked the fact that we get to read from both of their perspectives because they have different personalities. Mackenna is a rebellious kind of girl that really doesn't listen to anyone while Veronica is more of the studious kind of girl with a troubled past and is said to be a reader which we don't see often in the book. Even though they were miles away in the beginning, they were still the best of friends which is very admirable.
I also like that there was some foreshadowing as to what is going to happen since it lets us know that something bad is going to happen next. There were some twists in the book that I find to be kind of predictable, but it was still very enjoyable. T
here is "instalove" in the book which works with the story because they have the Calling which is Doonians finding their one true mate, but it just made me uncomfortable to read about. However, I do enjoy the romance with the two best friends and princes.
Overall, I really enjoyed this book. The world is well thought out and it just made me fall in love with Scotland with its desciptive details.
My Rating: 4/5