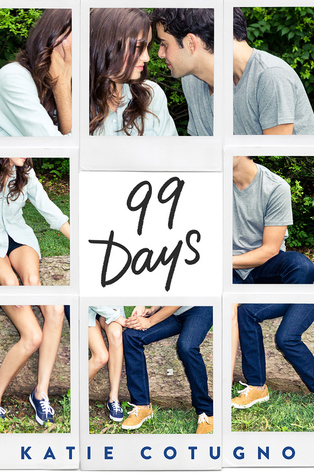 Genre:
Comtemporary
Type: Stand-Alone
Date Published: April 21, 2015
Publisher: Balzer+ Bray
Summary: Day 1: Julia Donnelly eggs my house my first night back in Star Lake, and that's how I know everyone still remembers everything—how I destroyed my relationship with Patrick the night everything happened with his brother, Gabe. How I wrecked their whole family. Now I'm serving out my summer like a jail sentence: Just ninety-nine days till I can leave for college, and be done.
Day 4: A nasty note on my windshield makes it clear Julia isn't finished. I'm expecting a fight when someone taps me on the shoulder, but it's just Gabe, home from college and actually happy to see me. "For what it's worth, Molly Barlow," he says, "I'm really glad you're back."

Day 12: Gabe got me to come to this party, and I'm actually having fun. I think he's about to kiss me—and that's when I see Patrick. My Patrick, who's supposed to be clear across the country. My Patrick, who's never going to forgive me.
Click Here->
Goodreads
Review: Molly came back to her hometown for her summer after graduation to find that everyone still hates her for sleeping with her boyfriend's brother.
First off, Molly is such a snobby bitch. She comes back for the summer and the next thing you know she's doing it all over again. Dating the brother and cheating with the other. She really got to me. I really wanted to like her, but I just can't.
The brothers Patrick and Gabriel don't seem to have the same personality, but in a way they are kind of similar. Julia is also kind of a bitch as well. I know she just wanted to make Molly's life miserable for what she did to her family but she also takes it kind of too far. In her defense though, she did what she did when she and Patrick were on a break, but rebounding with the brother? That's just wrong.
The plot was okay, but it was not the best. It just made me want to rip the book into pieces (I can't though because I borrowed it from the library :P). It was good read though and I kind of liked it even though I know I shouldn't. The ending really got to me. There was no closure and I just want a sequel so bad or at least a short story.
My Rating: 3/5