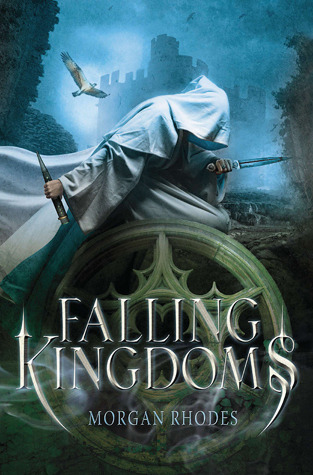 Genre: Fanatsy
Type: 6-Book Series
Date Published: December 11, 2012
Sequel: Rebel Spring (December 3, 2013)
Publisher: Razorbill


Summary:
In the three kingdoms of Mytica, magic has long been forgotten. And while hard-won peace has reigned for centuries, a deadly unrest now simmers below the surface.

As the rulers of each kingdom grapple for power, the lives of their subjects are brutally transformed... and four key players, royals and rebels alike, find their fates forever intertwined. Cleo, Jonas, Lucia, and Magnus are caught in a dizzying world of treacherous betrayals, shocking murders, secret alliances, and even unforeseen love.

The only outcome that's certain is that kingdoms will fall. Who will emerge triumphant when all they know has collapsed?

It's the eve of war.... Choose your side.
Click here->
Goodreads
Review: I think this is probably the greatest fantasy book that I have read. The world building is fantastic. The four characters each have a distinct personality between them that I find interesting to read about. The story captivates me in right away from the very beginning which I definitely enjoy. I would definitely recommend this book to those who is starting out in fantasy. It would definitely make you want to read more. Also, for those who enjoy the Throne of Glass Series and the Seige and Storm trilogy.
Cleo, Jonas, Magnus and Lucia are so fun to read about, but Cleo is definitely my favorite protagonist of all. She is strong, brave and a very confident person if I say so myself. Throughout the book we can see that she has grown to be a better person than she was in the beginning. Jonas I thought was kind of violent for my especially when he gets very vengeful, but still a very interesting person to read about. Lucia seems like a sweet innocent girl but of course she turns out to be total kick butt. I actually kind of felt bad for Magnus, how he doesn't really have many friends and his unrequited love.
My Rating:
5/5