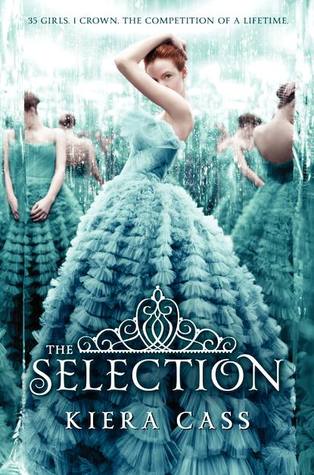 Genre: Young-adult Fiction
Type: Trilogy
Date Published: April 24, 2012
Sequel: The Elite (April 23, 2013)
Publisher: HarperTeen


Summary:
For thirty-five girls, the Selection is the chance of a lifetime. The opportunity to escape the life laid out for them since birth. To be swept up in a world of glittering gowns and priceless jewels. To live in a palace and compete for the heart of gorgeous Prince Maxon.

But for America Singer, being Selected is a nightmare. It means turning her back on her secret love with Aspen, who is a caste below her. Leaving her home to enter a fierce competition for a crown she doesn't want. Living in a palace that is constantly threatened by violent rebel attacks.

Then America meets Prince Maxon. Gradually, she starts to question all the plans she's made for herself--and realizes that the life she's always dreamed of may not compare to a future she never imagined.
Cli
ck here->
Goodreads
Review: America was forced into the Selection which she did not want to be a part of, but she begins to fall in love with Prince Maxon. Then Aspen, her boyfriend arrives and stuff happens.
This book enjoyable and I would definitely read the sequels. It is kind of like "The Bachelor" on TV except it seems a little darker with its political concepts and kingdom that is built upon it. There was a lot of drama with the girls especially with Celeste, who keeps on torturing America.

My friends actually reccomended this book to me and they really enjoyed it, so I picked it up to see what all the hype is about. However, I didn't really enjoyed it as most would. I mean, the whole premise is okay, it's just that the characters really got to me.
America is so stubborn and there are times where I wanted to pull my hair. Her relationship with Aspen doesn't seem very lovable since we didn't really see them spend a lot of time together. I can actually see the chemistry between Maxon and America, but America just ignores it and kept on thinking about Aspen which makes me want to punch her.
Queen Amberly seems so mysterious, I really wanted to get to know her better. She won the previous Selection and married the king, who seems like a jerk. Then there is Aspen. I kind of ship him with America before meeting the prince, but he seems very strong and heroic in some sort of way.
Anyway, although there were some stuff that bothers me, it was still quite enjoyable to read. I would recommend it to anyone who loves books to read about competing romances. If I picked it up by myself, without anyone's opinion, I think I would of enjoyed it a lot more.
My Rating:
3.5/5